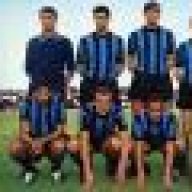 Joined

Nov 2, 2011
Messages

1,900
Likes

794
Favorite Player

Ronaldo


10 years of FIF
I'm grateful for three cups, but I really doubt that Inzaghi is the right man for current Inter. If we had money enough, to provide him solid players, he would be able to win even the scudetto, I guess. But right now, he cannot develop even a single young player like Asllani, who looks ready to step up. He relies only on veterans like Mkhiky, Darmian etc. His obsession with Correa is also cancerous. Correa deserves to be the first one to leave, but most probably we'll keep him, because he is licking Inzaghi's balls.
I'm surprised how Pioli, Allegri, even Mourinho have the courage to put in some young boys if their teams do not have enough finances or if the things don't go well, but our mister is over relying on the same people again and again, till the point when everyone turns to a shit.
I agree with you here, bar Correa things. If we would have an offer for Correa, he will go. But there is none.
Otherwise, as you pointed out, his biggest minus is the inability to develop young players. The top 4 is obvious, but the second priority is developing the young players. Without that we are fucked.
We have a broken owner, Inter had a mountain of debt and the second payroll in Serie A (127m, second to Juventus of 159m). We are haemorrhaging money year after year. Without scouting and developing young players we have no ceiling, no future. We can continue this agony with grandpas free agents and scavenging some players the rich teams don`t want. But we won`t come out of this purgatory.
I know that many here are dreaming of a sugar daddy who will put tens or hundreds millions in Inter`s ass. Unfortunately I don`t see any rich potential owner rubbing his hands waiting to splash the cash on our team.