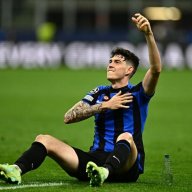 Joined

Jul 31, 2017
Messages

2,268
Likes

2,320
Favorite Player

Skriniar


Grande Simone!

I have to admit I was really sceptical about him when he came. But he showed that he was the right pick. Especially because Conte really lay the foundation for the 3-5-2 formation and Inzaghi improved it imo. We play really well most of the games. We qualified for the last 16 in the CL, we won the Supercoppa, we are first in the league. All these things I didn't expected when we started the season. So credits for him and I really think this is a great opportunity to start a cycle as a dominant force at least in Italy.

The fact I'm enjoying again to watch Inter as under Conte we had a lot of matches who were not worthy of the sight. Now every one wants to play football and wants to score the 2-0, 3-0 etc. The team seemed to enjoy the way we are playing and we don't have players moaning about playing time or anything.

I saw an interview from Skriniar in which he said that under Conte there wasn't room for fun and that he only laughed when they were champions. That's why in hindsight it is maybe for the better that Conte left. Working under Conte is doable for maybe 2 seasons but I think in the 3th season players get tired of the strict regime etc.

It even looks like the loss of Hakimi and Lukaku weren't that bad for the whole team and that's really worth a compliment for the whole team and technical staff with Inzaghi as leader.