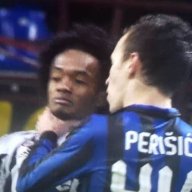 Administrator
Administrator
Joined

Jul 17, 2010
Messages

17,418
Likes

14,696



10 years of FIF

Forum Supporter
So why are you still suporting this sinkin ship? Support Psg, city, there is plenty of rich clubs with phenomenal enviroment. I support Inter, and I will never stand for any footballer that abandon this club, dont give a fuck in what condition, enviroment it is. Lukaku wanted to go, Suning wouldnt let him if he didnt want to leave. He was not forced out,end of story. He is cunt for me, just like Ibra.
We're fans. Lukaku is a professional who has a very limited income earning window.
You're kidding yourself if you believe anyone in this squad wouldn't do the exact same thing; the difference is no one wants the rest of our garbage.
The only three players who would refuse such offers are the Italian players and Handanovic. Actually, I'll add Skriniar to this list too.