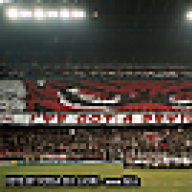 Prima Squadra
Prima Squadra
Joined

May 17, 2006
Messages

596
Likes

0
Interesting thing about big guns in Italian football:
*Inter celebrates scudetto
*Milan celebrates CL win
*Roma celebrates Coppa Italia
*Juventini celebrate Serie B title
*Torino celebrated survival
*Laziali semicelebrated Inter's title as well as their arrival to Europe.
*Napoli and Genoa probably will celebrate arrival to top league again
*And you can add up the Italian win in WC which was celebrated together.

For some of them a celebration is said too much but when you think of it, the emotions are mostly positive for the fans and only regrets are when you look at your rival's achievements.
I forgot to add Fiorentina celebrating the return to euro fields.
Football Italia
focuses on the victories as well.