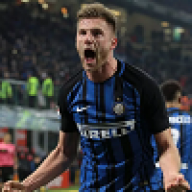 La Grande Inter
La Grande Inter
Joined

Apr 30, 2009
Messages

12,695
Likes

91
Favorite Player

Skriniar



FIF Special Ones

10 years of FIF
10/21/10 - Vadis Odjidja-Ofoe
Team: Club Brugge (Belgium)
Shirt Number: 32
Nationality: Belgium
Position: Defensive Midfielder
Secondary: Central Defender, Central Midfielder
Age: 22
Height: 1.85 m / 6.07 ft
Weight: 79 kg / 173 lbs
Report: A Club Brugge Colossus
"I get knocked down, but I get up again," could well be the motto of midfielder Vadis Odjidja-Ofoe – in more ways than one.
It hasn't been the smoothest of rides for the Belgian of Ghanaian descent, but after returning to Belgium from a failed spell in Germany, the 21-year-old is now proving to be a colossus for Club Brugge .
Odjidja is predominately a defensive midfielder in Club Brugge 's 4-2-3-1 formation, but he can also play further forward in a more attacking role, or even as a central defender if needed. He played several times for Belgium Under 21s where he was more of a box-to-box midfielder.
Background and History
Odjidja-Ofoe is a product of the Anderlecht youth academy and was widely regarded as one of Belgium's best youngsters.
However, his frustration at a lack of regular first-team action led to his departure from Anderlecht for Hamburger SV in January 2008.
But he failed to break into the Hamburger side, playing eight times in the reserves (Hamburger SV II) and just twice in the first team.
A year in Germany was enough for the young Belgian, and he returned to his home land, this time to Club Brugge , for a transfer fee of €900.000.
And at Club Brugge he finally got a chance to prove himself, and grabbed it with both hands, shining over the last two years and helping the team finish third and then second in the league.
Strengths
Odjidja's technical skills come to the fore in various aspects of his game.
He has very good passing ability, almost never missing his intended target. He is also a two-footed player, naturally right footed but possessing very good shooting and dribbling ability with his left.
He is also a strong player - a required trait for his defensive midfield position - not only because of his size, but also due to his his mentality. He is a warrior on the field and will do anything to win the ball back.
Odjidja also has a very powerful shot. Although he usually sits too deep to get near the opposition's box, when he does - mainly against the league's weaker teams - he is very dangerous with his shots with both feet, and he has already scored two goals this season with his left.
He also has good vision, a key element for a player in his position.
Weaknesses
Although Odjidja's physical nature is certainly one of his strengths, he is sometimes too aggressive, illustrated by his 13 yellow cards last season.
He can also be a tad tardy with his decision-making during the game, leading to carelessness in possession. A player in his position has to make rapid decisions, and he can still improve that aspect of his game.
In fact, some of his yellow cards can be put down to late lunges after losing the ball.
Finally, although Odjidja is not a slow player, if he had a bit more pace, it could work wonders for his game, because he has the technical skills, physical ability good vision and shooting ability. A bit more speed would make him the perfect player.
Mentality
Odjidja is held in high regard at Club Brugge and is the leader of the young players at the club.
His best friends there are Ryan Donk, Ivan Perisic, Dorge Rostand Kouemaha, Nabil Dirar and Maxime Lestienne.
While he cannot be described as super professional, he has neither had any major disciplinary problems in his career, nor any run-ins with his coaches.
Current situation
There are several teams who have been showing interest in Odjidja over the last few months.
In March, it was reported that OSC Lille were interested in the player, while last November, only 10 months after his return to Belgium from Hamburg, other German clubs were linked with his services - Borussia Dortmund, Borussia Moenchengladbach and FC Koln.
Odjidja is contracted to Club Brugge until 2013, but a fee of €2-3 million should be enough to capture his signature.
Current form
Odjidja has been in good form since his arrival at Club Brugge , and there are many people in Belgium tipping him for the national team.
He could well be the player to take over the Belgium No. 6 jersey from 33-year-old Timmy Simons.
[youtube]qK8UC6639V4[/youtube]
Last edited: