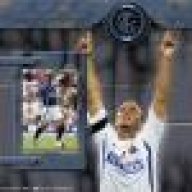 Joined

Jul 9, 2009
Messages

3,056
Likes

448
Favorite Player

Cambiasso


10 years of FIF
I would say Satriano, Mulattieri, and Oristanio seem like our best young attacking prospects.

I'm not sure if Esposito has what it takes and Pina looks set for a bang average serie A career.
After all these years that i follow our primavera i will give up on these hopes/predictions.
The only way to prove their potential is after the 1st year in pro football. Honestly primavera level is very very unreliable.
With that in consideration Mulattieri cannot be considered on the same level as the other two.
He was playing some football in serie C , it was signed for our primavera , did good there for 1 year , imeddiately left for pro football again and did great. That shows proof of potential, ability to adapt to change etc. Now its the time to prove if he is gonna be Inter level material or Genoa level by having 1 more year on loan in Serie A or as 4th striker if he really impresses in the pre season.
Satriano is one level behind . He has the same background as Mulattieri for the first 2 years , now time for him to be proven on loan.
While Oristantio is just a flashy AM/Winger that did some good things in primavera but nothing huge.