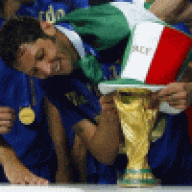 Joined

May 22, 2004
Messages

9,336
Likes

2,228
Favorite Player

Oba


10 years of FIF
play some primavera to join the first team rather than old corpses. it's not like those old corpses make inter gameplay and stature on the highest table right now, i think those old corpses so far only gave more troubles, problems and wasted money for inter based on their expenses.
Yes cause our primavera is this great... We d shit on them within 3 games....
Look where most of our past primavera stars play and you ll realize that they have not even reached gags level...
But since it s a funny shtick lets just repeat this fucken mantra every time we struggle...
Throwing in young players who are not ready for the stage wont help anybody not the players and not us....