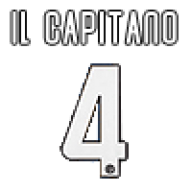 Administrator
Administrator
Joined

Mar 4, 2004
Messages

25,084
Likes

48



Forum Supporter

10 years of FIF

Most Important Member
As we have recently discussed
here
, I will be opening 4 separare topics for rumours, one for each position. Please post the majority of the rumours in these topics. This means that rumours such as Riquelme or Mancini or Makinwa or Alex should be discussed inside. But for persistent rumours like Cassano or Chivu, you can open separate individual topics. Should there be any official transfer, another new topic will be opened to discuss that. In the case that there is already a topic open regarding that particular player, for example, Cassano, then we will discuss in that topic but I will change the topic's title instead of opening a new one.
Also be reminded that non-related transfers should not be discussed in this topics. You can go into the
European Leagues forum
and discuss them in the appropriate topics.
To be fair, since this is a change, I will conduct a poll at the end of the month to see if you guys like this change or whether you want to go back to the old system or Tim's suggestion of a topic for every rumour.
Thank you very much.
Hand
yo