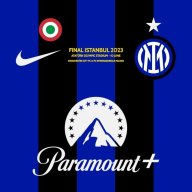 Joined

Mar 9, 2004
Messages

5,256
Likes

3,637


10 years of FIF
This game is shit boring. It reminds me of the days when we had Di Biagio and Almeyda and could not create from midfield.

Samuel went off with what looked to be a thigh strain. Dacourt has taken a number of hard knocks.

Adriano looks fat. I think him and Ronaldo have been going out on the town together and it appears they finish off their late night drinking sessions with McDonalds in order to offset any hangovers.

With 5 minutes left in the first half, Cesar made two crucial saves. Every time I think he has pulled off a wonder save, he comes up with something better.

This game is about as interesting as watching the grass grow. Hopefully we will wake up in the second half and score some goals.