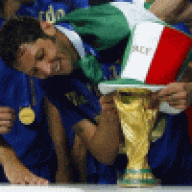 Joined

May 22, 2004
Messages

9,389
Likes

2,283
Favorite Player

Oba


10 years of FIF
Zuck is hell bent on wrecking META, i think everyone has had about enough
Meh imho has more to do with apple fucking everybody over and the ftc standing by watching and holding their dicks....
Yes zuck is hell bent on the metaverse, and reversing course there would help but the real problem is apple cutting of tracking to everybody but them selfes...
Also never have i lost as mich money as i did yesterday and today... i guess i m an idiot baggy when it comes to FB/Meta...
I just dont see how those 2.5 to 3 bio maus are not worth a lot more....