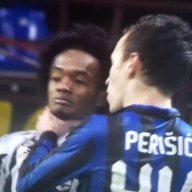 Administrator
Administrator
Joined

Jul 17, 2010
Messages

16,775
Likes

12,790



10 years of FIF

Forum Supporter
Due to all the reporting in the last 48 hours about Suning's demand that Inter raise 60M of
plusvalenza
in the transfer market, I want to make a post explaining this concept.
What is Plusvalenza?
Plusvalenza is Italian for the English phrase "Capital Gain." You might be loosely familiar with the concept of a capital gain from your personal finances. If you own a house or have a stock portfolio, you've likely incurred a capital gain (or loss) in the past. The general idea is that a capital gain represents the
net
proceeds earned in a transaction. This is different from the cash received in a transaction. In fact, the cash received in a transaction almost is never equal to the plusvalenza.
Before I explain how Inter generates plusvalenza, we have to go over some basic accounting principles.
Intangible Assets
Players are considered intangible assets for accounting purposes. An intangible asset is an asset that isn't physical in nature. A
tangible
asset is something like a building, a stadium, or a team bus. When Inter buys a player, we record the player, at cost, as an intangible asset. Intangible assets are far and away the largest asset that Inter has. As of June 30, 2021, Inter had €365M of intangible assets, and €278M of non-intangible assets. When you buy a player, there is
no immediate impact
on the profitability of the club.
For instance, if Inter were to buy
@thatdude
for €25M and sign him to a five year contract, we would have a €25M intangible asset on our financial statements. This would not impact Inter's net income for the year. Our net income would remain unchanged.
Amortization
Inter is required to amortize their intangible assets. What is amortization? The idea is that you're reducing the cost of a player in your financial statements, because the player is beginning to become less useful over time. Amortizing players has a
negative impact
to the profitability of your team.
It might be easier to think about this concept with relation to a car. If you pay €10.000 for a car, you will likely use the car to drive. You will accumulate kilometers on the car, reducing the value of the car. In accounting, you need to amortize the car to reflect this usage.
The same concept works in accounting for footballers. Amortization is a large item in Inter's financial statements because we are often buying players from other clubs, rather than producing our own players in the academy. During the most recently completed fiscal year,
amortization was Inter's largest expense
. This is pretty normal for football clubs, but is especially troublesome for Inter, because we have wasted so much money on bad players who we still own (Dalbert, Lazaro, etc.).
Going back to my
@thatdude
example, let's fast forward two seasons.
@thatdude
has played two seasons for Inter. We calculate his amortization by taking the initial price paid, divided by the length of his contract. €25M/5 years = €5M of amortization per season. After two seasons, that's €10M of amortization. This means that, in our financial statements,
@thatdude
is a €15M asset.
€25M acquisition cost - (€5M amortization x 2 seasons) = €15M intangible asset.
Plusvalenza
Scenario #1 - EPL Oil Money
After two great seasons at Inter, Marotta and company have decided it's time to force
@thatdude
to move on from Inter. He attracts all sort of interest from EPL clubs. We settle on selling him Manchester City for €50M. How much plusvalenza will Inter earn?
Transfer fee from Manchester City: €50M
Less: Value of
@thatdude
, as an intangible asset: €15M
Plusvalenza: €35M
Scenario #2 - MLS
After two average seasons in Italy,
@thatdude
has found out that he impregnated three different woman while at home in America for the summer. He decides he needs to return to the MLS to take care of his new children. While he has value, he isn't worth much more than €14M, which the Los Angeles Galaxy bid. Happy to get rid of him, Inter accept the offer. How much plusvalenza will Inter earn?
Transfer fee from Los Angeles Galaxy: €14M
Less: Value of
@thatdude
, as an intangible asset: €15M
Plusvalenza: -€1M
This is actually a capital loss, and would reduce Inter's net income.
Scenario #3 - Joao Mario
@thatdude
was a complete disaster of a transfer by Inter. After two horrible seasons at Inter, we were desperate to get rid of him. Unfortunately, no club makes an offer for him. We loaned him to Benfica and Hull City in consecutive seasons, and neither team decided to exercise their purchase option. Now,
@thatdude
only has one season on his contract and we're ready to give him a golden handshake. How much will this cost Inter?
Transfer fee from the golden handshake: €0M
Less: Value of
@thatdude
, as an intangible asset: €5M (€25M acquisition cost - (€5M amortization x 4 seasons) = €5M intangible asset
Plusvalenza: -€5M
Conclusion
The amount of cash received for a player is not the same thing as the income earned from selling a player. Our continued failure as a club to make quality, smart purchases has led to us being in a poor financial position. We end up incurring amortization expenses for players that no other club is willing to buy. We can't afford to sell the players for nominal fees, because we're desperate to avoid large capital losses. This is the reason you see players like Lazaro, Sensi, and Vecino still at the club, despite the fact we'd love to get €5M cash for them.
This might have been a waste of time, but thanks to anyone who made it this far.
Last edited: