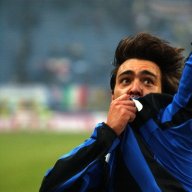 La Grande Inter
La Grande Inter
Joined

Mar 3, 2009
Messages

17,738
Likes

4,167



10 years of FIF
In these kind of intense matches, Barella gets exposed so much. Not the first time he pulls a 1/10 performance. Never in doubt regarding his footballing abilities, but the guy is just weak, not only physically but also mentally. And it takes a great character to overcomes these difficult moments.

Tonight's problem was collective though.

But like I said, it's quite worrying how he struggles in matches like this, and there is no real improvement at all.