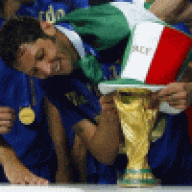 Joined

May 22, 2004
Messages

9,003
Likes

1,806
Favorite Player

Oba


10 years of FIF
How the story played out is not out in the media yet. What's out in the media is what Marotta is feeding them, just like he always does. "The player wanted to leave".

Well fuck him.

The same player "wanted to leave" but refused any bid that came uninvited or after being shopped around by the same management that's toying with the fans through their mouthpieces. He even refused to speak to PSG until freaking November when he realized that he's not valued at Inter... And he was under bid by PSG and didn't even want to listen to their offer... Yet one thing changed. And that wasn't Skriniar...
How may of those supposed bidds did inter ever accept?
Like common you really wanna believe skri wanted to stay here at all cost until we listened o psg s offer and then refused it? And now he s leaving over us coming 1 mio short? Give me a fucken break...
Also LOL he refused to speak to psg and then agreed to join them in the shortest time ever? Common
To me it s very obvious skri wanted out and all that i m gonna stay i love inter blah blah was just pure BS. If he d love inter and it s fans he d have the decency to sign a contract with a 30mio buy out so the Broke club who he supposedly loves can at least make some money of his ass, but noooo he rather gets that sign on bonus.
Again this is all well within his rights but if you do this dont tell me BS like i love this club blah blah blah...
Last edited: