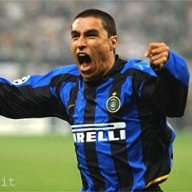 Joined

Mar 7, 2004
Messages

33,202
Likes

10,210
Favorite Player

Toro, Barella



10 years of FIF
This is not true, because you make it looks like Inter was shopping only Skriniar around. With our current situation, everybody is on the market for the right price, without exceptions. And believe me, everyone from the squad is well aware with it. There is no need to pretend that they are offended. We received offers for Skrin and Bastoni. Bastoni refused to move, Skriniar and his agent didn't say a word, which means that had no problems with that. Skrinar said that he wants to stay and expect new contract to be presented to him after last season, and maybe because of that everyone thought that he wants and he will stay. If he was annoyed by the club's actions, he could have said it. If something has changed after the summer, he could have said it again. He kept quiet in order Inter do not have a time to react in the short winter window, because he wants the fat PSG bonus. This is the thing I don't approve and I don't like. I don't have any problems with his decision to leave, if he stated clearly.
This.
Management and the club fucking this up is one thing.
But I'm mostly disappointed in Skriniar for doing this. He was to become the new captain, he talked about being the Hamsik of Inter. And that happened last June! It's not like we are cheap shotting him, lowballing him. It's because he got fucking greedy which is the opposite of what Hamsik did and "being the Hamsik" is about.
He could have been a fucking man and in July-August just tell the club "sell me now, I'm not gonna renew".