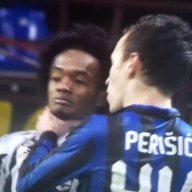 Administrator
Administrator
Joined

Jul 17, 2010
Messages

16,551
Likes

12,160



10 years of FIF

Forum Supporter
Here's a fun little exercise. First team players who are under contract for the 2023/24 season:

GK: Onana
CB: Bastoni, Dimarco
CM: Barella, Calhanoglu, Brozovic, Asllani
WB: Dumfries, Gosens, Bellanova
ST: Lautaro, Correa

Noteable contracts expiring after this season: Handanovic, Skriniar, de Vrij, D'Ambrosio, Darmian+, Mkhitaryan*, Gagliardini, Dzeko.

* - conditional option based on certain criteria
+ - I've seen inconsistent reporting on the duration of this contract - might be until 2024.

Noteable Serie A players who will be available on a Bosman starting in January: Fabian Ruiz, Malinovskyi, Singo, Cuadrado, Rabiot, Murillo, Juan Jesus, Smalling

It's not a great situation, guys.