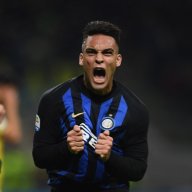 Joined

Mar 22, 2018
Messages

5,005
Likes

2,501
Favorite Player

Lautaro

I dont know, thats why I asked a simple question - has anyone seen anything in him to suggest he will actually be worth taking the bet on? I haven't paid enough attention to him, so I dont know. I'd say its *unlikely* but by no means impossible.

the thing to remember, if we were to use (say) Pasa as an example, that was a kid I thought had good potential - I'm not sure he's even a professional full time footballer now. Dont underestimate the 'range' of potential.
It's difficult to list his qualities to convince he is the next star since he hasn't been featuring much and there are no stats to back the argument. I gave you a comparison, you have watched Bellanova for enough time to understand his level. I honestly didn't notice anything special in him except for his speed which he has been demonstrating whenever there was a counter attack opportunity. Zanotti showed that too and he struck me as someone who has better tactical awareness. His movements on the pitch were more logical to me. Maybe I'm biased because I remember Bellanova getting on my nerves for constantly backpassing and doing nothing in attack. I forgot the exact match, but since then he is a big no no for me.