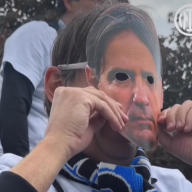 Joined

Dec 28, 2012
Messages

1,642
Likes

1,792
Favorite Player

Matrix



Forum Supporter

10 years of FIF
Theres no need to help them, though. Short of Vecino being another Lucio for them, even if he only adds a little bit, he's still adding to them.
Well, does the benefit - getting him off our wage budget, possibly getting a smallish, FFP-helping fee for him, getting rid of a body on our squad list so we have the possibility of adding someone more helpful to our causes - outweigh the (potential) downsides, will always be the question to ask.
In this case, knowing Vecino, I'd quite readily say yes in a heartbeat. Sure, there's a miniscule risk that he'd turn into a massive success, but even discounting the fact that we're talking about Matias Vecino here, what are the chances that that will happen for any player in the train-wreck that is Allegri's Juventus anno 2022?
I'd say selling them Hernanes for 12 million back when was way better for us than it was for them, and I'm seeing the same picture here, even if we aren't talking the same sort of economics.