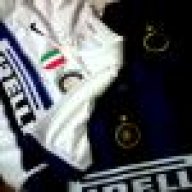 Joined

Jun 16, 2011
Messages

6,256
Likes

93


10 years of FIF
I'm blaming management as well. However; HOWEVER; when those motherfuckers hit that field and when they make up at that eleven they damn well better perform with some level of pride.

Reasons for loss besides management *today, as in this one game*

Ranieri - Made practically the worst 2 substitutions and module change imaginable.
Maicon. Lazy, loathsome, predictable, pathetic. Lecce got 4 brilliant counters from his decision making.
Milito for missing and empty net after stealing the ball and not shooting when he was in the box
Pazzini for blowing the opportunity when Cambiasso passed to him expertly in the box
Cambiasso for heading over the bar not even drawing a save from the keeper from Wesleys great cross.

I can't really blame Wally for the corners to me he did great. One hit the post, the other was a fluke save

Alvarez is a fuck up, he never was going to "save" this game, so can't really blame him or Zarate, because they are individually filth.