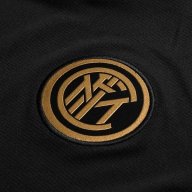 Joined

Dec 23, 2014
Messages

6,561
Likes

4,677


Forum Supporter
Bro, minus a few seasons under Mancini and Mourinho (and maybe half a season in Conte's second season) Inter has always been like this for the past decades. Losing easy points and playing like crap when we expected a dominant easy win was not just down to the past 2 seasons. And Serie A was not exactly a high quality league before Inzaghi arrives.

We are so used to see Juventus dominant the league that when we see another team on the top and Juventus down below we come up with the conclusion that the league is shittier than it used to be.

We have this tendency to always blame the coach for the bad results. I think that's part of the italian football culture that is always quick to sack coaches to fix things. But tbh our issues is more than that. Our squad is getting weaker every season and the players who could have a big impact on the team are either injured or misfiring most of the team.

For all the weaknesses Inzaghi has, he's not the one playing this game. When our players fail to do the basic football right and miss chances left or right the coach is partly to blame for it. It's not like he's gonna change anything by subbing in Gagliardini for Mkhitarian or misfiring Correa and Lukaku for Dzeko and Lautaro.

The impact of the coach is usually overrated in this forum. Coaches have their own impact, but the game is played by the players. That's why even the best coaches in the world could fail if they don't get the right players. I don't rate Inzaghi very highly but I also don't find him as the main reason behind our poor set of results.
In addition we always have a drop in thе form January/February. But, the problem with Inzaghi is the he refuses or cannot implement young players in the team, even when trashes like Correa and 5G are really bad. Unfortunately, we are broken and introducing some young stars is the only way to stay competative. Full team consisting of 30+ starters, cannot deliver every week.
Last edited: