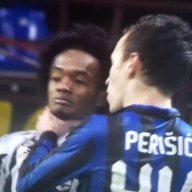 Administrator
Administrator
Joined

Jul 17, 2010
Messages

16,186
Likes

11,091



10 years of FIF

Forum Supporter
I don't really care about you bastards and your rules, this section needs a rejuvenation.

Crzdcolombian, you may not skip any of the below questions or else Dylan will ban you from the forum and you will be forced to spend the rest of your existence in Purgatory with Hamsun.

1- Full name.

2- Birthday and birthplace.

3- What are your hobbies.

4- Where the fuck do you live, with coordinates.

5 - What do you do for a living

6- Favourite all time football player?

7- Favourite all time Inter player?

8- Actual favourite player?

9- Big boobs or big ass? Can't choose both.

10- 10... 10 favourite members of FIF.

11- Make your FIF formation and the reason of their positions (Be creative )

12- Were you bullied in school because you're Colombian? If yes, which was your nickname.

13- What's your favourite meal?

14- Best username in the forum.

15- How did you find this place.

16- What's your favourite music?

17- Have you been in those crazy parties in abandoned houses where everybody is high, crazy and having sex?

18- What are your goals.

19- Describe the following members with in less than 5 words:

Ana
ADRossi
Cal
Coasterfreek
Crzdcolombian
Dino
Handoyo
Stefan
Pajo
Snake
La Brujita
Jer
N4L
Universe
Vasilios
Jacquez
I4E
Fifts10fzf20
Raul Dick
Lionheart
Fitzy
Pharaoh
Pimpinainteasy
NeonBlade
Martjin
Visca
Chopping Onions
Dyna
Dylan
The Divine Terza
Ed.
Browha
Willy

Serious Questions

Does it bother you as much as me that your username doesn't begin with a capital letter?

Please name the 5 countries most likely to beat Colombia in a WC match

Name 3 players on the Colombian national team who would be instant starts on A) Inter B) Real Madrid C) The Brazilian National Team

How long have you been a virgin for (approximately)

Is it true you have a picture of Falcao tattooed on both ass cheeks?

Rumor has it that you engaged in a not so secret affair with nerazzurri Ninja. Confirm or deny?

Would you rather masturbate to a Falcao highlight reel or Emma Watson banging Ed?

Is it true that you are hiding Dino in your basement, and that's why he is no longer active?

Who would win a fist fight between Chuck Norris and Jesus Christ versus Falcao and James Rodriguez? What if Christ gets to choose his weapon of choice additionally?

Are you a Porto fan?

That's all for now.
Last edited: