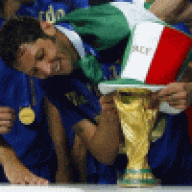 Joined

May 22, 2004
Messages

8,772
Likes

1,559
Favorite Player

Oba


10 years of FIF
This. I never got the fascination with Cambiasso. What has he actually done since his retirement that convince people he wants to be a coach? 4 matches as Pekerman assistant? His playing career is irrelevant. Juventini also thought Pirlo's career as a player and his role on the pitch would be enough to be a successful coach but it doesn't work like that. Stankovic, Samuel and even Chivu have taken coaching a lot more seriously than Cuchu.
He s been an assistant coach to colombia and he took the test to get the coaching license in coverciano... not sure one would do that if he has no intention of coaching...
It s true though that he has done very little since then might be that he s working on his A license and we just dont know it.
Dude was a coach when he was still a player, at least from a tactical point he has all that is needed, the other aspects of coaching i ll admit i m not that sure he has it, but if there ever was a time to try it it s now. We re strapped for money and we arguably have a squad that should manage top 4 if the coach is not a total idiot.
Btw if fucken gattuso is somehow managing Napoli than for sure cambi can do the job...