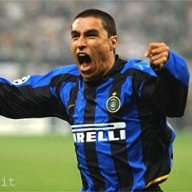 Joined

Mar 7, 2004
Messages

32,775
Likes

9,528
Favorite Player

Toro, Barella



10 years of FIF
Exactly. This is the elephant in the room.

We can debate all day about the merits of developing an exciting young prospect vs selling a completely unproven kid for good money. At the end of the day however, what is not up for debate is that the money we get for Casadei is fucking useless anyway. It's not enough to prevent the sale of a core player like Skriniar, nor is it enough to make a dent in our absurd debt or losses. At this point in the mercato, it's not even going towards financing any significant squad improvement.

Previously, I wanted the likes of Casadei and Pinamonti sold to finance the Bremer deal. Bremer would have been an excellent replacement for de Vrij and significantly strengthened our first team. Now though? We're literally trading a potential star for a 4th choice CB. Whotf does that?

There were reports that the Casadei transfer would go towards a deal for Lukaku - a couple of things about this. Firstly, those rumours have since gone by the wayside and all reports indicate that Casadei is a standalone deal for 15m cash with 5m in bonuses - not linked to Lukaku in any way.

Secondly, even if the transfers were linked, it's an absurd way to use the money. Even if we cooked the hell out of the books and overinflated Casadei's value, it would be so inadvisable to commit towards that kind of investment at this stage of Lukaku's second stint. What if he bombs? What if he's seriously injured? If he has a great season, he's extremely likely to want to continue with us anyway. If he flops, we could cut costs. If he succeeds, we would have all the leverage for a second loan, so why rush into securing a fee now?

Then again, we had all the leverage when we first re-signed him yet that didn't stop us giving him ridiculous wages.
How is money we get for Casadei useless? Maybe by selling Pinamonti and Casadei this summer stopped Zhang from ordering the sale of a starter? That's an automatic win for us.
You are making conclusions on issues we don't have full knowledge.