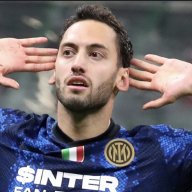 Prima Squadra
Prima Squadra
Joined

Jul 31, 2019
Messages

795
Likes

691

If you watch the Southampton v. Tottenham game from the 73rd minute, you can make the following observations:

-Perisic scores in the 73rd minute and restart commences at 75.

- The Walcott goal goal at 76th minute, which was after some pressure was applied by Southampton, resulted in a save from goalkeeper and corner. The corner is recycled, and ball is crossed into the box, 3 defenders one one player- Mara, who heads in into the centre of the penalty box and Walcott reaches the ball and goal;

- Tottenham was defending really deep. Son and Kane were literally a couple yards from their own penalty box trying to beat Southampton's press. At the 83rd minute, Romero was literally trying to clear the ball with 2 Southampton players charging him at the edge of his box;

- Conte doesn't make his final subs until the 85th minute (lol lol 😂);

- Southampton's Soulemana receives a yellow card for challenge on Emerson Nothing relevant here but just mentioning it because had fire in his eyes.

- 89th minute, Southampton corner, failed clearance by Sarr, one of Conte´s subs (made at 85the minute);

Conte's set up and late subs
The Tottenham players were not slacking as Conte makes it out. They were all defending, including the strikers.

It is more fair to say that Tottenham paid for defending too deep, and Conte making uninspired, defensive, and late substitutions (Emerson and Sarr for Kulusevski and Porro).