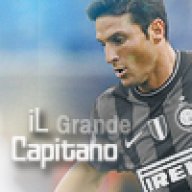 La Grande Inter
La Grande Inter
Joined

Feb 14, 2007
Messages

10,310
Likes

3,296
Favorite Player

Il Capitano



Forum Supporter

10 years of FIF
Bremer can't replace Bastoni. Bastoni is a lot more than just a defender for Inter. Bremer can't replace Bastoni passing or his forward runs. Replacing Bastoni would be a lot harder than people imagine. Freaking Chiellini named him as his heir in NT. The kid is special. Also Bastoni is on a low salary so it doesn't even make sense from a financial point of view.

If you go with a Skriniar-De Vrij-Bremer defensive trio then you simply can't play from the back.

If you have to sell someone for big money better sell Lautaro.
This. Send this in gold envelope to Lambo Steve.
It hurts if they kill the soul of our defense.