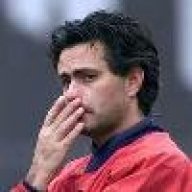 Joined

May 30, 2007
Messages

3,161
Likes

114
Favorite Player

JC7;MS37;YK17


10 years of FIF
5 players for 3 positions is not enough except if you have players that can easily slot in multiple positions, also I only really rate Bastoni currently, our defence looks even worse than I thought it would. We will have to invest in defenders sooner than later anyway, since 3 of our defenders are getting too old to start (I like Acerbi and Darmian, but they can't start every game) and Bisseck is more of a player for the future.

I would like to see Carlos Augusto at least, that would save us some headaches for this season. Keep Sensi, get one more striker no matter if Correa leaves or not.
Im also said that we need 2 players: a striker that can score goals (or at least get in shooting position...) and an RCB-kind. This 2 are a MUST.
Im 90% sure latter case will be demiral.
signing a third one for that Acerbi/Devrij position is not on the list imo.
Of course we have to rejuvenate the defense sooner or later like we did with midfield this year. probably next summer.