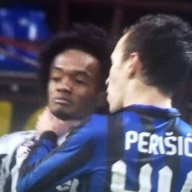 Administrator
Administrator
Joined

Jul 17, 2010
Messages

18,226
Likes

17,771



10 years of FIF

Forum Supporter
Most of these players were Conte requests and the rest were already considered quality players. Even Dumfries had impressed in Euro and Onana was really a no brainer as a free agent. He was considered a quality GK, who had to work on few things to become a top one, and the only concern was about his lack of playing time after his ban.

But when it comes to players who could come with a risk we usually choose the ones who play in Serie A.

I don't think we considered Aouar because there were never links with him. Same thing with Dahoud. Instead there have been many reports about Keita, who was eventually rejected (thankfully), and about the talks with Pereyra agent.
Alternatively, change the list to players we've signed since Suning tightened our money in 2020. The list is almost exclusively Serie A players, with the exceptions of Onana (free) and Dumfries (cheap). Management had to make decisions after our cash flow left, and their decision was to go ultra conservative.